Happy Easter Weekend Lovelies!
I know I usually post about amazing Boots Advantage Card deals and it's no secret that I prefer Boots Advantage Card points to the Superdrug ones for many reasons (mainly, they just seem to run better promotions!) but because Superdrug stocks Sleek, MUA and now also the new amazing budget makeup range Makeup Revolution, I've always had a Superdrug Beauty Card just because I knew I'd had to shop there sometimes and it's a waste not to rack up points where you can, right? Well, for those of you fellow Beauty Card holders, our loyalty has finally been rewarded this Easter weekend with an amazing 10 points per £1 spent offer!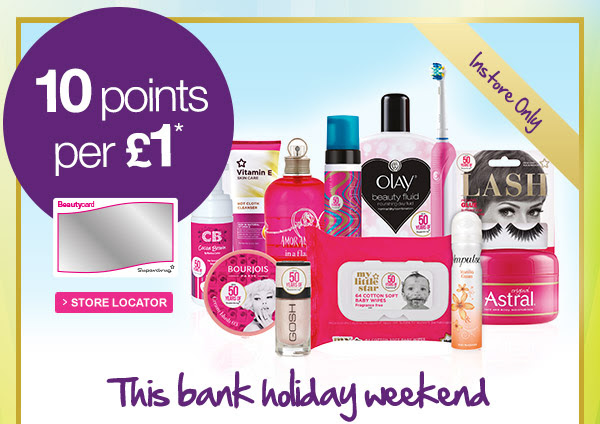 Just like with Boots, each point equals one penny, so essentially Superdrug is giving people a 10% discount by offering 10 points per £1! Boots has done better deals in the past before, so don't buy anything you could buy in Boots and which you can hold off buying… but if there's anything you need now, Superdrug's the one to go to this weekend.

Another amazing thing is they're currently celebrating their 50th Anniversary and there's quite a few wonderful, limited edition items that have come out (including an Olay Beauty Fluid collaboration, a Sleek iDivine Palette and even dry shampoo and also Bourjois and really far too many to name!). If anything caught your eye, this weekend is the time to pick it up.
Me? There's quite a few MUA products and Makeup Revolution (not sure if this is in stores yet) products I've been eyeing and this is the perfect time to make myself finally get them since I'll end up 'saving' money? Haha.
It's a pity the deal isn't available online (as Makeup Revolution is definitely available online on Superdrug and also stocks of MUA instore is notoriously low…) but oh well. The online version just gets you free delivery which isn't amazing…
The minimum spend on this is £10, which isn't too bad really. You're welcome to spend more of course.
Have fun shopping this Easter weekend 😉 the deal will last till the end of Monday!
LOVE,
Penny
ps: am very excited for Easter Sunday tomorrow! If you're religious/Christian like myself, you'd know, it's a day more important than any other (Christmas included! I mean, Christmas wouldn't mean a thing without Easter, theologically speaking, right?).
pps: speaking of important days and all… it's my birthday today 😉 looking forward to seeing how we'll celebrate it while away at camp!
Have you revamped your wardrobe for Spring?
If you liked this post, there options are endless,
you can follow this blog on WordPress (just click 'follow' above),
by email (see sidebar),
or on Bloglovin!