UPDATE: If you've had trouble getting the right cashback amount, just raise a support ticket on TopCashBack and let them know the wrong amount is showing (I had 0.99p on mine for awhile!) and they'll deal with it to get you the right refund!
Hello pretties!
I actually had another post planned for today but I stumbled across this great deal to get a free Revlon Colorburst Matte Balm and this totally trumps my other deal I had in store, so this deal it is! It comes courtesy of the amazing MissBudgetBeauty, a blog which had me at 'budget'.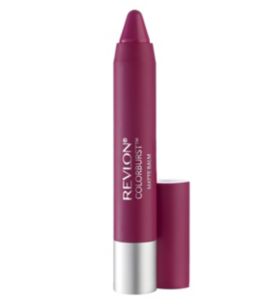 You're probably already familiar with the Revlon Just Bitten Stains, the word on the street seemed to agree that they were pretty good – convenient, great lip stain product, fun colours, drugstore prices! Personally they've always reminded me of the Clinique Chubby Sticks (I'm sure they remind everyone of the chubby sticks!) which I find adorable, never seen a lip product look like a cute little crayon before. Anyway, a month or so ago the Revlon Lacquer and Matte Balms came in and it's a super comprehensive range. It seems most people are preferring the matte offers so it's great that this deal gets you a free Revlon Matte Balm from Boots!
I've read quite a few posts on the matte balms from the BBB and also Miss BB, great swatches all round but as this is really Miss BB's offer I'll link you to her amazing review of the matte balms, check it out here. If you're too lazy to pop into a Boots and try them out for yourself (ie. like me…) then her post will really give you a great idea of the colours! This is why I love beauty blogs 😉
As for the deal itself, you'll need to get it via TopCashBack, a website I've mentioned before on this blog. It's for Miss BB readers and in the interests of fairness I'm going to link you to her post which tells you how to claim the deal rather than stick the link to the deal here. So here's her post on how to get a free Revlon Matte Balm.
She mentions a really important point… that on TopCashBack you can get your cashback in cash which may seem very 'duh' but actually isn't the case for most cashback sites! So thank you TopCashBack and thanks Miss BB =D
Deal ends 2nd of April so do check it out soon. I'm already wondering what colour to get… Isn't Standout just the most gorgeous deep red?! But then again, maybe a colour I'd be more likely to use on a daily basis would be better… like Audacious (a lovely bright coral) or Unapologetic (great stand-out pink!). Although I'm reminded of the MUA Mattes in Peachy Keen and Pouty Pink! Though maybe Pouty Pink is more like Elusive.
Decisions decisions! What would you pick? =)
LOVE,
Penny
No really, what would you pick?

If you liked this post, there options are endless,
you can follow this blog on WordPress (just click 'follow' above),
by email (see sidebar),
or on Bloglovin!