Good Morning Everyone,
So now the weekend and Valentine's are both well and truly behind us, I suppose we think it's time to buckle and be sober for the year ahead… er, no! For a great mid-week pick-me-up, here's a great skincare freebie from Olive Skincare courtesy of Skincare Advisor!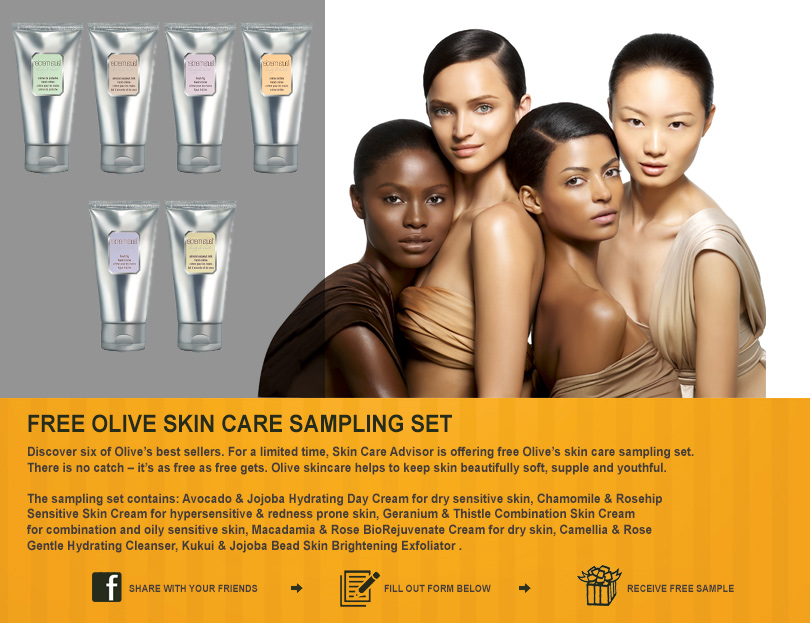 This actually isn't the first time that Olive Skincare has given away free skincare sets, back in November I did a really quick post about one of their free sample set and now they're back again, hurrah. The products are different and there's a bit more than they gave away before so that's all good of course!
In your free Olive Skincare set you'll receive 6 of their best-sellers:
Avocado & Jojoba Hydrating Day Cream for dry sensitive skin
Chamomile & Rosehip Sensitive Skin Cream for hypersensitive & redness prone skin
Geranium & Thistle Combination Skin Cream for combination and oily sensitive skin
Macademia & Rose Biorejuvenate Cream for dry skin
Camellia & Rose Gentle Hydrating Cleanser
Kukui & Jojoba Bead Skin Brightening Exfoliator
Unfortunately, can't find how much of each product you'll get (I'm guessing small sample sizes like 5ml?) but it's a pretty straight-forward freebie… just fill out the form here, send it out and then wait 2 to 3 weeks for the set to be delivered =)
If you liked this skincare deal, be sure to check out the Manuka Honey freebie I posted a couple days ago as well!
LOVE,
Penny
I've not tried Olive's Skincare before!
If you liked this post, there options are endless,
you can follow this blog on WordPress (just click 'follow' above),
by email (see sidebar),
or on Bloglovin!