Happy February Everyone!!!
Know what's a weird thought? That it isn't the 'new' year anymore, it's fast being just 'the present year', eep, how time doth fly…
Welp, got an amazing bargain flash-sale from H&M for y'all this weekend!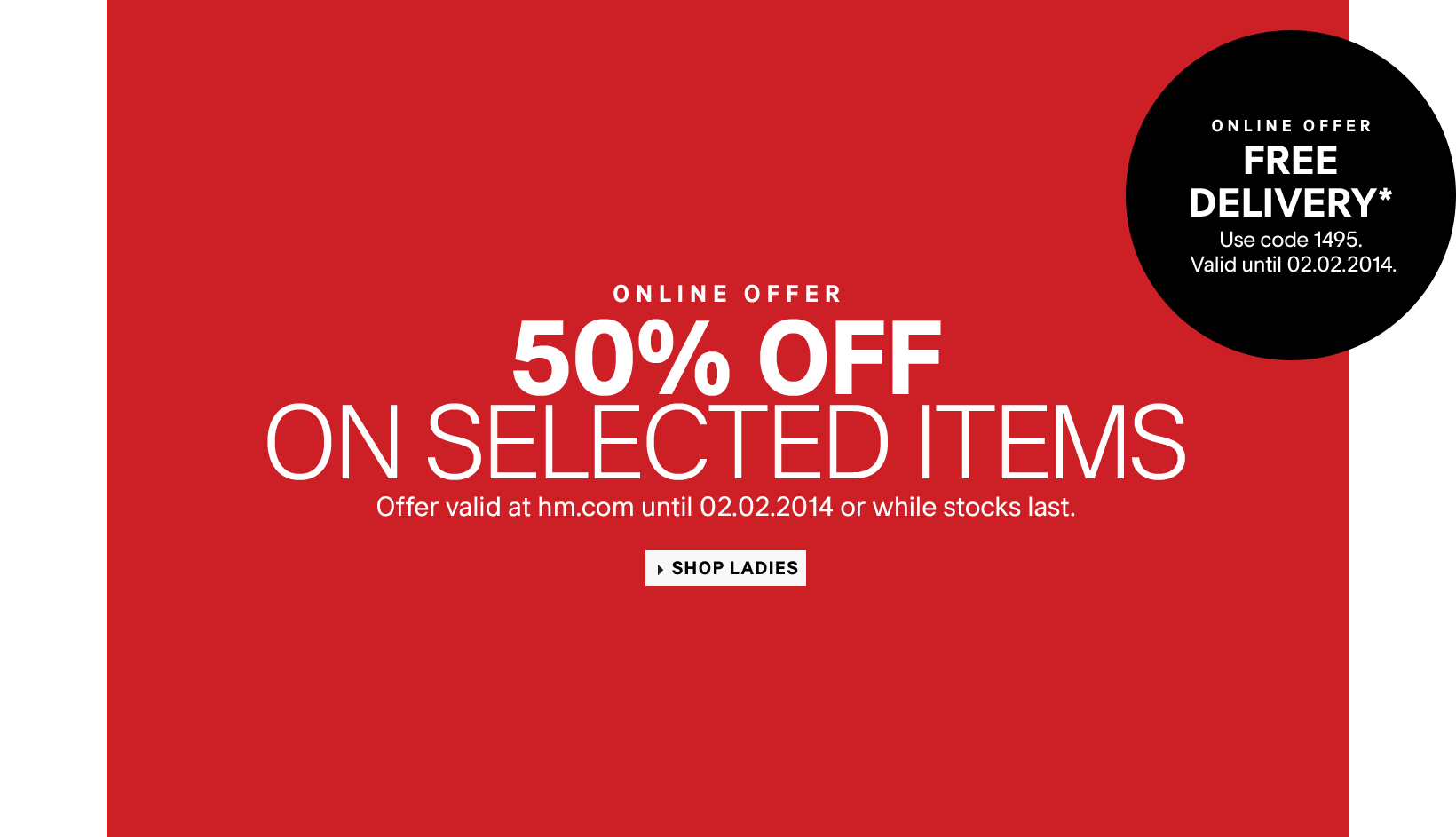 As you can see from the promo image, the deal even includes free delivery, which I absolutely love!!! So can't fault it really… it's only on till the 2nd of Feb (that's Sunday, so you have the weekend basically) but from past experience sizes in these flash-timed sales do go like the wind so best to be on it asap!
So here are some of my top picks from the sales, starting with the Ladies' section!!
Jersey Jacket
Who doesn't need a good blazer in their wardrobe? At the 50% off price of £12.49, this Jersey Jacket is a steal! It's also available in black, dark blue and a bright poppin' pink but I think white has a nice chic feel to it…
Jersey Top
Again, this top is also available in other colours (brown, black, white) but I love the polka dot one the most. The way they've styled it on the model makes it look smart-casual and work-appropriate but you can see how it could also be dressed down for a casual day out. It's only £3.99!
Black Basics Jersey Top
Sorry all my picks have been jersey material… wonder why all of that's going on sale? Anyways, this top is a bit of a boring pick but I'm sure you can see what I love about it!
Basics will always be a much-loved wardrobe staple and this black basic has such amazing flattering sleeves, guaranteed to flatter your collar-bone and with the bonus of a super-comfy fit. This top is also just £3.99.
Thought I'd limit myself to 3 picks for this post but do check out the Ladies' 50% Off Sale yourself because what's a top-pick for me may not be 'top' for you! I've spotted loads of other great wardrobe staple buys, like knit cardigans, fleece tights (also £3.99!), jumpers and chinos. All depends on your personal style and what you're looking for right now 😉
Here's a pick from each of the other ranges too…
Men's Knitted Jumper
I'm definitely not a menswear expert but my favourite pick would have been this blue striped jumper for £12.49, the collar just seems kinda quirky and you can't go wrong with a jumper really.
Girls' Sweatshirt
There were tons of cute little outfits to choose in the Children's section and obviously my pick won't work if you're not a little girl or if you're a very small little girl even… but this is my favourite none-the-less! Massively affordable at £4.99, practical and yet with a dreamily girly print. Love that it manages to be girly and yet not overly pink at the same time!
NYC Ticket Shower Towel

Gotta say, they had lots of cute/pretty things to choose from (gorgeous cake dish, pretty duvet covers etc) but this shower towel caught my eye for two reasons: (1) I always need more towels, I don't know why, the tower monster must be sneaking in at night and using my towels and sticking them in the laundry basket, there's no other way to explain why I always never have clean towels *ahem-unlessit'sbecauseIdon'tdolaundry-AHEM*. Also, it's a pretty funny towel, isn't it??
Right, that's it from me! Sales are on till the 2nd of Feb (ie. end of TOMORROW) so HAVE FUN EVERYBODY!
LOVE,
Penny
Are you a H&M fan?
If you liked this post, there options are endless,
you can follow this blog on WordPress (just click 'follow' above),
by email (see sidebar),
or on Bloglovin!